Sea Cliff Bridge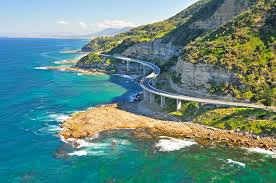 Sea Cliff Bridge is located on Lawrence Hargrave Drive between the suburbs of Coalcliff and Clifton 60 kilometers south of the Sydney central business district. At current fuel prices it would cost you an average of $30 roundtrip from Sydney to travel to the area via car, or $14.40 per person by train. A great day trip for little cost! In consideration of the enviroment and fuel costs (MotorMouth lists the best per litre price), how much cheaper would it be to travel to work via train v's car? Just a thought.


WALK THE BRIDGE!

Walk the 2.4 kilometer round trip and soak up the awesome views! This is a "must do" if you are visiting Sea Cliff Bridge. You should check out the latest weather information and UV forecast before hand. Allow a good hour for the round trip. Seniors travelling to Sea Cliff Bridge should allow approximately 1.5 hours to complete the return Bridge walk. Many use the measured walk for regular exercise, in what must be one of the most exhilarating on the planet. Bring something to eat and drink, and in the summer months plenty of sunscreen. Binoculars are handy during the whale watching season.
RAIL
ROAD
From Central Sydney: Google Maps provides a detailed route map.
From South of Sea Cliff Bridge: Google Maps provides a detailed route map.

Exercise caution when driving along Lawrence Hargrave Drive. The route is narrow and twisting at certain points, and the road is shared by bike riders.

Plan also to drive along the Grand Pacific Drive and visit other spectacular Northern Illawarra coastal villages and more. Note that from Stanwell Tops through to Thirroul the speed limit is 60 kilometers per hour (including Sea Cliff Bridge).

Note: Mobile phone signal strength is low on Sea Cliff Bridge. There is no bridge lighting at night.

Places to eat are located at Stanwell Park, Scarborough (the nearest to the bridge is the Scarborough Hotel 2 kms south), Scarborough Bowling Club, Coledale, Austimer, Thirroul and beyond.
Toilet facilities are located at the parking areas at each end of the Bridge as well as other locations in the area.
The closest petrol/fuel stations are located at Bulli-Woonona , Thirroul and Austinmer.
BICYCLE
TOURIST BUSES
SENIORS TRAVEL
..