Office and Commercial Cleaning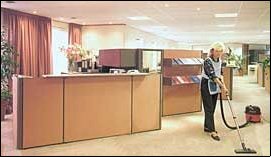 Vertical Challenge
has been established in the cleaning and maintenance field since 1982 providing cleaning and support services to various commercial properties in Brisbane - Gold Coast, Sydney and Wollongong regions. Our office cleaning is tailored according to each client's requirements.
From general cleaning once a week to taking care of whole building maintenance including daily cleaning, carpet and hard floor care, window cleaning, deep cleaning and janitorial supplies, we offer expert cleaning solutions for businesses of any size.

Our success in the past has been achieved by providing high service standards, yet remaining cost effective in a labour intensive market.

We are confident that with our management expertise we can provide a service standard in keeping with your requirements.
Please use our Contact Form for a quick response.





Home Page - Commercial Cleaning